Opening a can of worm remedies to reveal their effects against the SARS-CoV-2 and its ramifications
By Sue Visser (Health Researcher and product Developer 
www.naturefresh.co.za
 ) Common threadworms, known technically as 
Strongyloides stercoralis
are everywhere. More ubiquitous than coronaviruses by far, they are actually co-conspirators when it comes to inflammation and acute respiratory failure syndrome. Their life cycle is complex and their larvae can penetrate either your intestinal mucosa or the skin of the perianal area, resulting in autoinfection. Most of us are unwittingly hosting these critters and infecting ourselves and others on a continuous basis. So be warned, you barefoot lovers of cats and dogs, gardeners and anybody who breathes, with or without a mask!
.
Once the filariform larvae re-infect the host, they are carried to the lungs
, pharynx and small intestine as well as other destinations throughout the body. (No masks or sanitizers will help in this respect.) Untreated cases can result in persistent infections and are an underlying cause of intestinal as well as respiratory afflictions that are exacerbated by inflammation. Because these two zones are also the seat of the SARS-CoV-2 pandemic, one wonders if there is a connection to parasitic worms.
.
Long term use of corticosteroids can result in immune suppression
. A strongliodes  stercoralis (threadworm) infection may either remain dormant or it may progress to a state of hyper-infection. For example, the case of a 70-year-old Nigerian, on
long term corticosteroid treatment
who developed fatal ARDS (acute respiratory distress syndrome) despite 19 days of mechanical ventilation and appropriate antifungal therapy.  This common threadworm can affect every organ in the body. ARDS is generally overlooked as a complication of a Strongyloides hyper-infection and is often mistaken for pneumonia. Immediate diagnosis and treatment are important for patient survival as it is usually deadly at this stage. However, not many doctors would consider treating it with mebendazole.
.
Then along came the SARS-CoV-2  pandemic, and we blame the virus for this sort of scenario – but how does it really happen? Parasites in the lungs are very common albeit not readily diagnosed. When exposed to a virus that exacerbates inflammation, the resultant worm-induced ARDS requires more than an anti-viral drug – or even a ventilator to treat it. Simple worm remedies – OTC products that double up as antiviral multi-taskers against SARS-CoV-2 have been glossed over because today only
ivermectin
is on everybody's lips. But how does it compare with a simple OTC like
mebendazole?
.
Ivermectin is active against various life-cycle stages of many – but not all the nematodes.
As a remedy for threadworm infections within the lugs, its activity
against Strongyloides stercoralis
is limited to the intestinal stages. That means that these worms, now triggered by SARS-CoV-2 will exacerbate inflammation, but least this tried and trusted parasite remedy will exert its anti-viral effects. This may explain why many, but
not all people
have been successfully treated. Dosage guidelines indicate that ivermectin is not suitable for paediatric use and for elderly folk or those taking chronic medications,
especially anticoagulants
.  In countries such as the UK it has
not been approved by the FDA
.
.
Many successful antiviral drugs, such as those that fight HIV and hepatitis C, are protease inhibitors, according to
Dr Sadek, who used computer modelling
in May 2020 to screen a few more conventional drugs, focusing on their ability to bind to protein sensitive pockets on the SARS-CoV-2 virus to act as protease inhibitors.
.
Atovaquone, an anti-malarial drug also used to treat toxoplasmosis, babesiosis, and Pneumocystic pneumonia
Mebendazole, a cheap OTC drug that's used to treat several different parasitic worm infections
Dronedarone, a cardiac drug, specifically used for maintaining heart rhythms. (Not for everybody.)
.
As anti – SARS-CoV-2 candidates, all three of them effectively controlled viral replication in vitro and in vivo in doses similar to or significantly lower than drugs that are currently used.  Atovaquone also has well established anti-viral activity against other RNA viruses and can be used to treat a number of infectious diseases, including those that affect the lungs. Human and animal studies are underway. As an existing drug, it is worth considering for severely infected SARS-CoV-2 patients.
.
Disseminated (migratory) strongyloidiasis has a high mortality rate, yet early diagnosis and treatment can cure it. In an immunocompromised host, larval migration to the lungs may easily occur. A patient with symptoms COPD (chronic obstructive pulmonary disease) similar to pneumonia may stagger into a hospital during the SARS-CoV-2 pandemic, for instance. However, they may be also infected with worms that exacerbate inflammation. Finding strongyloides larvae in stool, sputum, and urine samples will confirm the presence of such a parasite. In 2019 a patient thus diagnosed was treated successfully with mebendazole .
.
For worm infestations in the chest, corticosteroids, mechanical ventilation, ivermectin and so on are no match for mebendazole. None of these prescribed – and often cumbersome treatments can stop the worms from breeding or entering the lungs. Yet we can buy mebendazole (eg: Combantrin) from the local drugstore. It is 10 x cheaper than ivermectin and now we know it is an effective weapon against the SARS-CoV-2 pandemic as well as cancer, being effective against
most of the cell lines
. The reason it is such a popular and cheap remedy is because it has few, if any side effects apart from the typical die-off reactions such as nausea or diarrhoea.  Now I'm off to the drug store!
https://pubmed.ncbi.nlm.nih.gov/8672946/
  Disseminated Strongyloides stercoralis infection mimicking pneumonia
.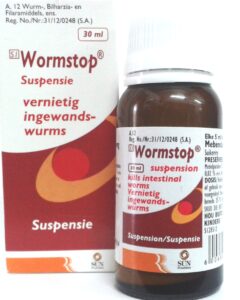 .
The Budwig Protocol for Covid-19 pandemic 
Q & A discussion for radio IFM with Zulaikha and Sue on "WOW women of worth"      June 2021
Basically, we all need to rearrange our fatty acid profiles – especially to control covid-induced inflammation and blood clotting issues! So cut down on the bad, saturated fats and increase the anti-inflammatory Omega 3 essential fatty acids. We can't  only rely on medications exclusively because bad eating habits and unhealthy lifestyles contribute to co morbidity. No drugs are needed to right these wrongs.
.
Covid research update:  linoleic acid deactivates spike proteins
. Why would I want to drink pine needle tea? Yuk! (More evidence to support the budwig protocol, by Sue Visser June 2021.) "The Bristol researchers showed that
linoleic acid binds to the coronavirus's spike protein
and locks the spike in a state that would prevent binding to human cell receptors called ACE2." Omega 3 from fish oil or flaxseeds are linoleic acids that are essential for maintaining cell membranes and anti-inflammatory prostaglandins or messengers called PEG 1 and PEG 3. Our diets are usually too high in omega 6 linoleic acid and saturated fat or trans-fats that stimulate the pro-inflammatory prostaglandin called PEG. In September 2020 linoleic acid was discovered by Max Plank researchers in a customized pocket within the spike protein. These polyunsaturated fatty acids affect inflammation and immune modulation, which are key elements of the COVID-19 infection. The researchers also explained that in other illnesses, interfering with the metabolic pathways of linoleic acid can induce systemic inflammation, pneumonia, and acute respiratory distress syndrome (ARDS). All these health problems are seen in patients with COVID-19 due to a lack of anti-inflammatory LA, I would presume. "The study findings provide the first direct link between LA, the health consequences, and the virus itself." This implies that we need to stock up on more anti-inflammatory oils and hence the justification for embracing the time-honoured Budwig protocol – to zap spike proteins from coronaviruses, vaccines or even vaccinated people!
Scientists Find An Avenue To Attack The Coronavirus, Aided By Cloud Imaging by  Aaron Ricadela Sept 2020
Linoleic acid binds SARS-CoV-2 spike protein   By Angela Betsaida B. Laguipo, BSNSep 24 2020
.
Q) Zulaikha from IFM 88.3
We now know that the Covid-19 pandemic is all about inflammation. They say that Covid-19 relates more to cardiovascular – than respiratory diseases. Sue, in your book,
"A holistic guide to a Healthy Happy Heart"
you and Dr Liddell say that inflammation is linked to cardiovascular disease. In it you explained that ACE2 receptors are the "on switches." You told us this in 2016, so can you explain how this relates to the Covid-based ACE2 receptor?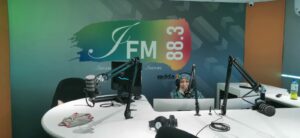 .
The much talked about SP or spike protein that protrudes from the coronavirus attaches to the pro-inflammatory receptor we now know as ACE or angiotensin 2. We have these receptors on blood vessels throughout the body. They promote inflammation and this is what causes blood clotting. I need to update the text to mention that COVID-19 itself can also induce
 myocardial injury, arrhythmia, acute coronary syndrome
 and
venous thromboembolism (blood clots)!
  The lungs are not at fault – they can't move the sticky blood around and that is why the blood clots affect our hearts as well as our oxygen supply. They also have ACE2 receptors that become inflamed and the tiny blood vessels burst with the strain of no oxygen and too much carbon dioxide.  When we eat saturated fats we also flood the body with pro-inflammatory chemicals called prostaglandins (Peg 2). To counteract this problem, we need more sources of anti-inflammatory prostaglandins (Peg 1 & 3). This brings us back to the reason we need to drastically increase our anti-inflammatory Omega 3 oils. Thanks to Joanna Budwig, we can easily include them in our diet.
.
The Budwig protocol uses a mixture of low-fat or fat free cottage cheese and flaxseed oil  blended with a fork or ideally, a stick blender to make a paste. dose per person for 4 days: • 1 part flaxseed oil (say ½ cup) to 2 parts fat-free cottage cheese (say 1 cup or tub) • 1 – 2 cups water, juice or low-fat milk if you don't like a sticky texture and prefer a smoothie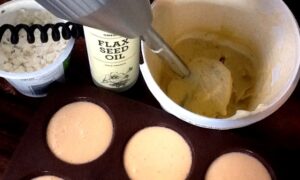 .
Q)
Was Dr Joanna Budwiig a real scientist and was her discovery backed by human trials (in vivo evidence)?
.
Dr. Budwig had a Ph.D. in Natural Science.
During the 1940's her medical training included pharmaceutical science, physics, botany and biology. She was an expert on fats and oils. Dr Budwig is best known for her extensive research on the properties and benefits of flaxseed oil combined with sulphurated proteins in the diet, especially cottage cheese. She selected them for convenience, availability and cost to make it really easy. (Originally she used goats milk to make the cheese, but ordinary cow's milk is fine.) Over the years she published a number of books on the subject, including "Cancer–A Fat Problem," "The Death of the Tumor," and "True Health Against Arteriosclerosis, Heart Infarction & Cancer."
.
Q)
We hear a lot about the Budwig protocol for cancer, but rarely about any other benefits of eating flaxseed oil and cottage cheese. How can we use it today? Do you have any personal experiences you can share?
.
A patient was diagnosed with Hodgkin's lymphoma, according to her uncle who asked me for advice. She followed the Budwig protocol, using the flaxseed oil with cottage cheese and making the necessary changes to her diet. A few months later I received a thank you letter telling me that she is now in remission. Another cancer patient is taking the Budwig smoothie plus Vitamin D3 and potassium iodide both before and after her radiation sessions. Cheryl says she no longer feels so utterly drained and weak and is finally gaining weight. We also enjoy Budwig smoothies from time to time. For over 2 decades I have recommended them – especially to ease inflammation,  (cancer, respiratory and heart issues) leaky gut, neuropathy and also skin problems.
.
Over 70 years ago Dr. Budwig used this simple remedy therapeutically in Europe for patients with: cancer, arteriosclerosis, strokes, cardiac infarction, stomach ulcers (to normalize gastric juices), prostate problems, arthritis, eczema and other skin diseases and even immune deficiencies. Today many of us are burdened by these conditions and can still use benefit from her techniques. She maintained that cancer was due to a problem with fats.
.
I have had excellent results using flaxseed oil and cottage cheese as a base for smoothies for a patient who was reacting badly to her medications for Parkinson's disease. We added magnesium chloride, Vitamin D3, Vitamin C, zinc, MSM and other nutrients to it – plus a banana. We put her on a gluten free diet and reduced her sugar and saturated fat intake. Working with the nursing staff and a doctor of functional medicine, we managed to wean her off the two medications that were trapping her between ataxia and paralysis.
Here is the link to more about the Budwig Protocol
and how to prepare it for daily use.
.
We can easily control inflammation using these fat facts – but seem to have forgotten!
.
Q)
Obviously today we are all worried about the Covid-19 spike proteins we are constantly being exposed to. Not only from the virus, but also from the vaccines or what they are calling the shedding effect. Can the Budwig protocol help in any way?
.
A number of doctors are concerned about people with compromised immune systems who are being vaccinated. Firstly, many of us with weakened immunity, especially Hiv/AIDS patients, are incapable of generating antibodies against not only spike proteins, but also the MRNA and many types of viruses. How can we immunize them by injecting in more of same? So too, injecting these pro-inflammatory triggers into the bloodstream of a person with a hyperactive immune system will exacerbate the problem and give rise to uncontrolled inflammation. The Budwig protocol is something that will help us to control inflammation. It is simple, affordable, readily available and can also be used prophylactically.
.
Q)
What other nutrients can help to prevent and control inflammation?
.
We can also take fish-based oils rich in ALA ( Alpha-linolenic acid ) plus DHA, another important omega-3 fatty acid to ward off inflammation induced by Covid-19 plus the vaccines. However, flaxseed oil is a good source of ALA for vegans and vegetarians. It is a vital, essential omega-3 fatty acid. Since the body cannot synthesize it itself, ALA must be supplied daily via food. As an alternative to the cottage cheese that is rich in sulphur we can use whey powder. Joanna Budwig originally used quark or fermented goats milk for her patients but somehow she is better known for cottage cheese. Vegans can blend up nuts, leeks, chives, onions and garlic with flaxseed oil and use it as a salad dressing. Creaming this combination up with an avocado pear and pineapple juice would make a wonderful spike protein antidote!
.
Q)
You once mentioned that pineapples are rich in bromelain that is used for inflammation. Is this why you suggest we include it in the smoothie?
.
Yes indeed, it is also a proteolytic or protein-attacking enzyme that deactivates the Covid-19 spike protein. Pawpaws and papayas are sources of another proteolytic enzyme called protease, so include them as well. This us why I add these bromelain and papain to the vito-zapping supplements I formulate, with zinc, selenium and Vitamin D3, of course. For vegetarians, pumpkin seeds are a good source of zinc and brewer's yeast is rich in selenium . We get plenty of quercetin from our fresh fruits and vegetables, especially the berries. So add them to your Covid-busting, anti-vax smoothies and get plenty of sunshine!
.
Q)
On many of our shows you have told us  that ginger prevents blood from clotting. How are anticoagulant medications being used for treating patients with Covid-19?
.
According to one of the Medscape newsletters I read recently, Covid-19 patients admitted to hospital fared better on anticoagulant treatment and the death rate was reduced and they recovered sooner than patients who did not receive anticoagulant drugs. But we are well aware of the natural alternatives such as Onega 3 oils, ginger, olive leaf and so on.
.
Q)
You say we can use what comes out of the kitchen to counteract inflammation, but what should we be removing from the kitchen to reduce inflammation?
.
Dr Joanna Budwig had the best answer: "do not consume "pseudo" fats – "hydrogenated," "partially hydrogenated" and even "polyunsaturated." The heating up and chemical processing causes the oils to become a harmful substance deposited within the body. The heart, for instance, rejects these fats and they end up as inorganic fatty deposits on the heart muscle itself. They end up blocking circulation, damage heart action, inhibit cell renewal and impede the free flow of blood and lymph fluids." She was also opposed to sugar, refined white flour and all pre-cooked takeaway foods.
.
We also need to eliminate with pro-inflammatory foods that contain gluten or other lectins that are blood type specific and items such as shellfish, berries or groundnuts that you may be allergic to. By reducing the load, we can get on with our survival quest against the rigors of the Covid-19 pandemic and the questionable vaccines that are said to be equally, if not more threatening to immune compromised and hyper-inflamed individuals.
Last word from Sue and Zulaikha: There are practical alternatives to vaccinating – or hoping you don't get infected by vaccinated people! We are strongly advised by some medical experts NOT to get vaccinated and they refuse to be vaccinated by trial vaccines that have not stood the test of time, do not protect you from recent viral strains and contain dangerous MRNA and spike proteins that are contagious!
Make sure you protect your immune system!
.
2020-2021 Natural COVID-19 Resources for Health Professionals to consider
.
Disclaimer:
This information is based on the most up to date research on Natural treatments for viruses, bacteria, fungi and other pathogens that are being studied for their efficacy in both treating as well as preventing coronavirus infections. The main focus is on COVID-19 as this is the central issue associated with the global pandemic. According to the WHO, there is no remedy or vaccine for COVID-19.
.
But according to a recent report from the Max Planck Institute of Colloids and Interfaces (Potsdam, Germany) and virologists at Freie Universität Berlin
:  "laboratory studies  confirm that aqueous and ethanolic extracts of specially bred Artemisia Annua are active against the new coronavirus that has caused the COIVID-19 pandemic."
.
Artemisia Annua as an anti-COVID-19 remedy
When the school children of Madagascar came out of lockdown, they were  allowed back on condition they drank a daily cup of COVID-organics – a herbal tea containing Artemisia Afra. South Africa was invited to partake in scientific trials to investigate the effects of the Artemisia/Afra plant against the COVID-19 virus. Nothing happened, but other African countries, especially Tanzania, Uganda  and Cameroon  have been using the tea. Recently, some of our local South African Inyangas and practitioners of traditional medicine were forbidden to wild harvest the plant and were accused of unsustainable harvesting. We can grow our own and use it for private consumption.  Some bush doctors selling bundles of Artemisia Annua/Afra known as Lengana, Umhlonyane or Wilde Als on the streets were arrested. What is going on?
.
Information for Integrative Health practitioners on the South African Medical Academic website.
Sue Visser is a Healthcare researcher and product developer for Nature Fresh Health Products. She provides practical health solutions for Health practitioners with patients who seek medical guidance when using natural supplements, traditional medicine and herbal alternatives to conventional drugs. Doctors need to know that these remedies can produce the same effects as prescribed medications. This is especially the case with Artemisia Annua/Afra, Olive leaves and Black Cumin/Nigella Sativa/Kaloenjie. They compete with blood thinners, anti-diabetic remedies and high blood pressure medications especially. Patients who wish to include them for their effects on coronaviruses need help with adjusting their current medications.
.
According to a number of studies mentioned in the hyperkined articles, their immunomodulating effects help to prevent cytokine storms. They support the development of leukocytes while protecting red blood cells from damage that causes hypoxia, hyperinflammation, clotting /bleeding and lung damage.
.
Artemisia Annua/ Afra  and olive leaves
have been used successfully  for many decades to treat malaria and they remain effective despite the failure of other remedies like  Arteminisin (the isolated extract), chloroquine or hydroxychloroquine. Products that contain
Artemisia Annua/Afra plus olive leaves and Nigella Sativa (Kalonjie)
can be used for both helping to prevent as well as provide symptomatic treatment for the COVID-19 virus.
.
The dangers of Ivermectin that we don't hear about                  
Sue Visser (natural health researcher)  
sue@naturefresh.co.za
www.naturefresh.co.za
Ivermectin (Stromectol) is a veterinary medicine that is used for controlling mites, scabies, roundworms and other parasites. Recently, it was shown to reduce viral colonies of COVID-19 by 5,000 times within 48 hours of a single treatment in a cell culture infected in a laboratory.  Ivermectin is already being used to both treat as well as prevent these infections in sample groups of the human population. Yet little is known of its safety profile, side effects or contra indications – despite what doctors tell us. Why is Ivermectin contraindicated by veterinarians for kittens and certain breeds of dogs? What happens when it penetrates the blood brain barrier?
.
There is more to Ivermectin than meets the eye, regardless of the enthusiastic reception it gets from politicians and medical practitioners alike. In South Africa two patients ended up in intensive care after ivermectin treatment. The dosage guidelines for Covid-19 are higher than the tried and tested treatment for parasitic diseases such as river blindness and so on.  If they exceed 0,02 mg per kg, the outcome is not guaranteed. We need to ask why a disease for parasites cures a viral infection? Because the virus uses the parasite to protect itself from the immune system. Herbal remedies containing
olive leaf and Artemisia
also control viruses that inhabit parasites but they also help to prevent blood clotting. They boost the immune system and overdosing is not so risky.
.
Why is Ivermectin so risky if you take an overdose? 
Ivermectin is an avermectin – a naturally occurring compound derived from soil-based organisms known as actinomycetes.  Streptomyces avermitilis in particular, comes from a fermented culture that is now synthesized to produce Ivermectin. It kills scabies, worms and other parasites that attach themselves to host animals by paralysing them to death. Their mode of action as a neurotransmitter is to continuously and irreversibly stimulate the γ-aminobutyric acid (GABA or inhibitory) receptor in the parasite's (or your) peripheral nervous system. It thus deactivates impulses to nerves and muscle cells and causes a lockdown or paralysis. If glutamate is able to penetrate the blood brain barrier, why not Ivermectin?
.
Many people are said to have a "leaky brain" as a result of parasites, gluten sensitivity plus EMF and other forms of radiation. During long cell phone conversations the integrity of the epithelium of the blood brain barrier is also temporarily breached. These gaps in the membrane may thus allow an influx of Ivermectin into the brain. Ivermectin kills parasites by permanently latching onto GABA receptors and shutting them down. This is why the BBB prevents external sources of neurotransmitters from occupying both dopamine and GABA receptors. This guarantees the constant interplay between neural synapses – the on and off signals. Overstimulation of a dopamine receptor with glutamate causes over excitation and neural burnout.
Overstimulation of the opposing GABA receptor exposed to ivermectin that crosses the blood brain barrier causes a shutdown and hence paralysis or even death.
Natural Approaches for COVID-19 and Its Many Mutations – Townsend Letter
   my article from Townsend describes other remedies and includes all the drug reactions that involve ivermectin for human use: "if you have the MDR1 gene that allows ivermectin to enter the brain, it causes neurological damage that could result in coma and death. (I would presume that ivermectin is only guaranteed to be safe if you don't have this condition and your blood brain barrier is perfectly intact. Investigating this potential may be a good idea prior to taking it.) If ivermectin is given at high doses (in which case, brain levels peak 2–5 hr after administration), it may enter the brain. When given simultaneously with CYP3A4 inhibitors that include statins, HIV protease inhibitors, many calcium channel blockers, and glucocorticoids such as dexamethasone, lidocaine, and the benzodiazepines, then there is no guarantee that ivermectin will stay out of the brain."
.
Precautions that are outlined for veterinarians are: "Clinical signs of Ivermectin toxicity include dehydration, bradycardia, respiratory depression, cyanosis, mydriasis, vomiting, ataxia, tremors, hyper salivation, coma, and death. Ivermectin should not be given to kittens, as it can cross the BBB. (Even if we are told it doesn't cross ours?) At higher doses, more animals show similar signs of Ivermectin toxicity. According to one study for instance,  it caused testicular damage in rats, thereby impairing male fertility. Some dogs are unable to clear Ivermectin from their brain tissue with the result that they could die after a shot of Ivermectin. Collie dog breeds are very sensitive to a build-up of Ivermectin in the brain and cannot eliminate it. There is no guarantee that humans with a leaky brain on even higher doses of Ivermectin may not share the same fate. Dogs with a
sensitivity to Ivermectin
can show symptoms of toxic build up in the brain within 4 to 12 hours of exposure to the drug. Even dogs being treated preventatively for parasites with smaller doses can experience
the following symptoms within 48 to 96 hours of exposure
:
.
Pupil dilation that is unresponsive to a flashlight.
Loss of appetite, chronic bouts of vomiting that can lead to dehydration.
An affected dog may also exhibit excessive drooling.
Lack of energy that can progress to an inability of your dog to rise to their feet.
Motor impairment as the drug begins to affect critical areas of the brain. Your pet may stumble or fall as they try to walk or stand. The dog may also appear disoriented and unresponsive to your voice or actions.
Breathing may become shallow and laboured, and loss of consciousness may occur.
The dog may experience seizures or fall into a coma. Without treatment, the affected dog may die.
.
Why do we need an impenetrable blood brain barrier?
A little background information on neurotransmission may help to explain this better: As we know, glutamate and GABA are neurotransmitters and they are not supposed to cross the BBB. They are assembled within the brain, in isolation to prevent any excessive stimulation either way – to turn receptors on or off. The GABA and dopamine receptors on neural synapses alternate at hundreds of cycles per second. Glutamine is temporarily linked to a sodium molecule to make a minute supply of glutamate that is taken up by the glial cell within the synapse. It has a dual purpose – that of providing glutamate to activate the dopamine receptor and the residue is for GABA synthesis, to inhibit the synapse. At no time is there ever any free glutamate or MSG circulating within the brain, unless there is a breach in the BBB. The way Ivermectin kills parasites is to latch onto the GABA receptors permanently! So if glutamate and MSG – plus other toxins can seep through a compromised BBB, so can Ivermectin! Nerve impulses would then be totally inhibited, resulting in muscle paralysis – just the opposite of
the overstimulation by glutamate on a dopamine receptor
that causes neuropathy. Very few people have a healthy BBB these days and we all use cell phones. Many of us suffer from a gluten sensitivity and parasites that also disturb the epithelium. If this is the case, Ivermectin could be potentially dangerous to promulgate unquestionably as a 2021 anti-Covid panacea.
https://www.scalarlight.com/the-main-inhibitory-neurotransmitters/
https://www.thefreelibrary.com/MSG+Excites+Us%2C+But+How+About+Glutamine+and+Glutamate%3F-a0560015341
Farmers warned: 'Ivermectin will kill you before covid-19 does' | Food For Mzansi
Using ivermectin for Covid-19: what to do when caution… (dailymaverick.co.za)
https://www.petcarerx.com/article/ivermectin-intolerance-in-collies-and-other-dogs/750
https://naturefresh.co.za/covid19/
https://heavy.com/news/2020/04/ivermectin-side-effects-coronavirus-cure/#:~:text=According%20to%20the%20Mayo%20Clinic%2C%20Ivermectin%E2%80%99s%20side%20effects,itching%20or%20skin%20rash%20joint%20or%20muscle%20pain
(Ivermectin opinions and chat group:. it works in the laboratory, but only large doses would be sufficient for humans and it is not 100% safe.)
.
What about iodine?
Iodine is used by the human body to eradicate all manner of infections, including coronaviruses and their constantly mutating cousins. That is, providing we have optimal levels of iodine – enough to maintain the health of the thyroid gland as well as control all manner of microbial infections. Why are we ignoring iodine, even when doctors already know this? It is something that has stood the test of time – that is not patented, processed or promulgated at a profit. Where would we be without
Betadine
? We can buy 20 ml of elemental iodine tincture for as little as R20 from Clicks or Dis-Chem!
.
The fear of iodine (iodophobia)
has reared its ugly head to such an extent that people are too afraid to maintain optimal iodine levels. Has there ever been a reliable vaccine against a coronavirus? Has anybody died from taking recommended doses of
iodine supplements
– ever? No. However, do not take potassium iodide (as a salt or Lugol's iodine) if you are taking medications for high blood pressure as it may increase potassium levels. All you need is one single drop of elemental iodine (the cheap first aid one). It can be added to water, milk or fruit juice. There are 20 drops in 1 ml, so a teaspoon provides 100 x 1 ml doses of iodine. It is best to add a teaspoon of the tincture to a 500ml bottle of water. Thus each teaspoon of the mixture will provide everybody with 1 drop dose  of iodine. It can be added to daily drinking water, bottles or fruit juice or herbal remedies that contain
olive leaf and Artemisia teas, tinctures
and other time honoured anti-viral remedies.
.
There is plenty of evidence of
iodine's efficacy against Coronaviruses
and it is known to be safe at upper limit dosing (1 drop or 3 mg of plain elemental iodine.) We depend on mega doses of potassium iodide (a salt of iodine) to protect us from accidental atomic bombs or power station radiation, yet we are too scared to take ordinary everyday iodine supplements! Iodine has never killed anybody when used as prescribed to both prevent as well as treat viral – and other diseases. To test for an iodine deficiency,
the iodine loading method
is used. A large dose of iodine (4 tablets of a solid dosage form of Lugol (Iodoral®), containing a total of 50 mg iodine/iodide) is given to the patient. The excretion rate thereof is measured in the urine over a period of 24 hours.
.
Conclusion:
Taking as much as 50 mg of iodine is OK for a run of the mill test and urinary excretion takes care of the iodine you don't need. Yet people fear the worst after ingesting 1 drop (3mg) of iodine! By the way, such an amount is hardly enough to maintain the thyroid gland, let alone prevent breast cancer or zap opportunistic viruses and other pathogens from the bloodstream.  
An iodine deficiency
is linked to thyroid disease as well as cancer. Why don't we first correct the iodine deficiency?
.
(PDF) Iodine Intake to Reduce Covid-19 Transmission and Mortality (researchgate.net)
https://www.sciencedirect.com/topics/agricultural-and-biological-sciences/streptomyces-avermitilis
https://naturefresh.co.za/iodine-deficiency-not-affect-thyroid-gland/
No evidence ivermectin is a miracle drug against COVID-19 (apnews.com)
https://www.medicalacademic.co.za/infection-control/betadine-could-be-effective-in-combating-c-auris/
https://www.medicalacademic.co.za/integrative-medicine/preventing-and-treating-diseases-with-iodine/
Iodine: Uses, Side Effects, Interactions, Dosage, and Warning (webmd.com)
https://naturefresh.co.za/product-categories/antivirus-range/
https://www.ncbi.nlm.nih.gov/pmc/articles/PMC5205649/?page=1
https://www.bing.com/search?q=iodine+loading+test&cvid=1b5e8ecdfa0e4c59a82060b9729514fb&pglt=129&FORM=ANAB01&PC=DCTS
.
Glutathione is the key to immune function –it is our primary antioxidant!
Those who are depleted of iodine and neglect their intake of vitamin C or don't produce enough glutathione have no defence against the ravages of acute inflammation, microvascular damage, and increased pulmonary vascular and epithelial permeability. Their homocysteine levels shoot up and the blood becomes too acidic. Without alkaline minerals to buffer it, a respiratory crisis develops. We make our own glutathione – our master antioxidant (superior to vitamin C) out of the amino acids glutamine, glycine and cysteine. So if the cysteine is not being channelled into glutathione production there will be raised levels of homocysteine, a pro-inflammatory chemical instead. Glutathione is one of the body's most important and potent antioxidants to reduce oxidative stress by combating free radicals in the body. It also helps to detoxify heavy metals and boost T-cell and natural killer activity in the immune system. High homocysteine levels (above 15 μmol/L) in the blood are considered to be a high risk factor for cardiovascular disease. Some medications also may increase inflammation and hence homocysteine. Tylenol depletes glutathione. Genetic factors cause some people to be more prone to homocysteine / cysteine imbalances.
We live in a polluted habitat and are stressed by microwaves. Without regular exercise, fresh air, antioxidants and enough wholesome nutrition – let alone restful sleep, glutathione takes a back seat. We need to take supplements of folate, vitamin B6, and vitamin B12, selenium and Vitamin C. Dietary sources of cysteine such as whey protein – a complete protein. AAC 200 fizzy tablets help to produce more glutathione. Glutamine becomes glutamate, MSG or glutamic acid in the body. L-glutamine (supplement) and MSG (a condiment) are both precursors for the free form glutamate we need for glutathione. We produce about 10 g of glutamate a day, from sources of dietary protein. When a molecule of glutamate bonds to a sodium molecule it is called monosodium glutamate. Viruses are contagious, spreading from handshakes or by touching places that are infected and can live on surfaces like tables or door handles for 1 month. When airborne, sneezing and coughing also spread them. Some strains also spread in bodies of water such as small lakes or swimming pools. Wearing a mask or hiding inside won't really protect you from any virus that is currently being branded as a No 1 killer if you do not have a strong immune system. Supplements are available, and here is an example from the internet: Total Glutathione Enhancement GSH Gold helps to improve Glutathione levels through three distinct pathways. Directly enhancing Glutathione levels with L-Glutathione. Promoting natural Glutathione production with proven effective precursors. Improving the body's methylation cycle with a specially formulated vitamin complex, helping to recycle oxidized Glutathione back into its active form. Some glutathione supplements break down into the 3 amino acids, glutamine, glycine and cysteine so look for a supportive multi- supplement combo. They are very expensive – 60 capsules cost over R600. For the emergency treatment of virus infected patients, some forms can be inhaled into the lungs or used trans-dermally or intravenously. The AAC 200 fizzy tablets are worth a try, (25 for R90) but are not as thorough – or effective. Keep taking your whey protein for cysteine and eat lots of brassica veggies and high protein foods rich in precursors of glutamine/ glutamate, but the treatment is very costly. Viruses can also be successfully treated with iodine . "Though iodine kills most pathogens on the skin within 90 seconds, its use as an antibiotic, antiviral and antifungal agent has been completely ignored by modern medicine so we do not hear one word about it as the coronavirus spreads." Dr Mark Sircus. Dr. David Brownstein says, "Iodine is essential to not only fighting off an infection it is necessary for proper immune system functioning. There is no bacterium, virus, parasite or fungus that is known to be resistant to iodine." He is the iodine expert and claims that iodine also prevents cancer and can be used to treat fibrocystic breast disease within half an hour when used topically in the vagina. They tried to induce cancer in rats that had optimal levels of iodine, but failed. Lugol's iodine is the best form to take. (10% potassium iodide / 5 % elemental iodine in 85% water) We need iodine on a daily basis to top up our reserves in the thyroid and particularly under the arms, where it kills bacteria that causes body odour. So if you have bad odour problems, take your Lugol's! Buy some brewer's yeast tablets. They are inexpensive and absorb a few drops of Lugol's iodine. Using a dropper, dot 2 drops of brewer's yeast onto each tablet. When dry, return them to the container. This works well and adds selenium and some B vitamins to improve your glutathione levels – and improve thyroid health. Olive leaf tablets or other supplements (but not calcium) can also be enriched with iodine. Kelp is not a reliable source of iodine and people who are allergic to it give iodine a bad nameIt seems that main issue is a super-inflamed immune system and systemic acidity – all of which can be treated and prevented in the first place, by maintaining optimal levels of glutathione and reducing homocysteine.
.
Probiotics are important to replace after antibiotics have destroyed them.
Taking antibiotics deplete our healthy gut flora – especially taking a full course to treat a virus! Repeated use of antibiotics leaves a lot of yeast residues in the gut and they form pathogenic moulds, mycotoxins and fungi (candidiasis). A healthy immune system includes our gut flora as they are 80% of it and they control mould, fungi and yeast overgrowth. Many people complain about yeast infections, especially candidiasis but probiotics eat yeast so if there are enough of these strains of beneficial gut bacteria there should be no yeast left to develop into candidiasis. Taking olive leaf tablets for 3 weeks is very effective at killing the toxic by-products of the overgrowth of yeast and they do not affect the good guys, but a good intake of probiotics is needed to maintain the balance of beneficial yeast strains. Probiotics that are in liquid form can be added to food and will grow and multiply rapidly, allowing them to populate the gut without the need to take specially coated capsules. The more strains the better, as most people have n overbalance of lactobacillus acidophilic. To support the argument about bypassing stomach acid is the tradition of eating a lot of fermented foods that contribute to our hundreds of strains of beneficial bacteria. Adding the contents of a probiotic capsule to a cup of yoghurt and leaving it to stand overnight will automatically increase the population of microbes. Learn how to make your own delicious fermented food such as pickles, cheeses and Kombucha. Buy more gherkins, pickled onions, olives, Amasi (fermented milk). Try Chinese and Japanese fermented soya products like miso, natto (stinky beans) and tempeh. Fermentation enhances flavours, makes fibrous food more digestible and provides a steady stream of potent probiotics. These gut friendly bacteria are easy to maintain without the need for supplementation by eating regular helpings of traditionally fermented foods every day. Our gut health affects our immune system, digestion, our vitamins, hormones, emotions, energy levels and our brain function. Traces of mould toxins are commonly found in cancer patients, because they begin to suffer from advanced oxygen starvation and chronic acidosis. People get easily fatigued, irritable, spaced out and suffer from constant inflammation, swelling, gas, bloating and other digestive disorders. Within the gut probiotics help us to neutralize toxins, remove heavy metals and create vitamins and hormones like serotonin. They also speed up the elimination of toxic waste in the bowel, bulk up the stool and balance the water content. But if they are not present, these functions are affected. Naturally fermented vegetables to which liquid probiotics are added grow and multiply rapidly. And actually do the same job as laxatives and fibre supplements. Probiotics keep cholesterol and triglyceride levels in check and break down excessive hormone levels to control oestrogen dominance that causes PCOS and some types of cancer. Not many people know that the colon can only function normally when there is adequate lactic acid in which most of our probiotic species of the Lactobacilli and bifido bacteria live. Lactic acid is a by-product of fermentation and it is a sterilizing compound. It suppresses harmful micro-organisms and breaks down the fibre (prebiotics) we eat such as lignin and cellulose. Antibacterial compounds attack pathogenic bacteria, yeasts including candidiasis or yeast overgrowth is thus controlled. A vaginal douche with 5% of a lactic acid or vinegar solution balances the acidity of the vagina. It should be within a range of 3, 5– 4 to control odour and irritations. Avoid alkaline soap, rather use specially formulated intimate cleansers to maintain a healthy pH balance. If you suffer from vaginal dryness, itching, burning or inflammation no matter what you try, it could be a wheat allergy or a deficiency of B-vitamins. I discovered this when formulating the lubricants for a gynaecologist who could not understand why "it" was red, itchy and inflamed in some women, but the lab tested clear of infections! More help at: www.naturefresh.co.za
Warning about Ivermectin