the beginning of NATURE FRESH 27 years ago!
July 2022 little baby Sasha Taylor remembers when she was caught eating toothpaste
Dear Aunt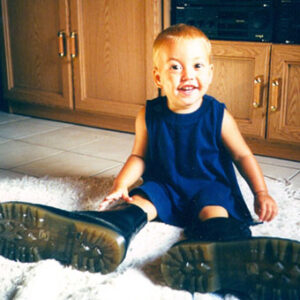 y Sue, Happy  27th Birthday to Nature Fresh! I was just a toddler, eating toothpaste when you visited us in 1995. You went on to develop a fluoride free toothpaste, for supermarkets throughout South Africa. I then grew up with your Junior toothpaste, like so many thousands of children – and enjoyed eating it! One day my own children will use it. Regards, Sasha Taylor
Here is the story of how this amazing toothpaste came to us.
Sue Visser began her research about calcium and magnesium when her husband Jim was ill with rheumatic fever and had 3 weeks to live. 27 years later, they are still selling the same jar of Calcium and Magnesium that helped him to recover. People began to use it and soon the Nature Fresh branding followed. The toothpaste is based on the same minerals – and tastes a lot better! Monica Fairall, the editor of Pathways to Health chatted to Sue in 1998 about this new departure from her involvement in ceramics.
 Back in 1995 Sue began to challenge dentists and doctors about the side effects of fluoride  after seeing an old lady walking alone along the pavement in the dark because she had just taken Ossiplex retard. She couldn't lie down as her throat was burning. So would yours, after taking a sugar coated fluoride pill! When Nancy Richards chatted to Sue on Women's World radio on SABC, Sue had to explain why she thought fluoride was unsafe, when everybody knew it "prevented tooth decay". She and her husband Jim were asked to first speak to the Stellenbosch Dental Association prior to being on the show. The experts agreed that children do not suffer from a deficiency of fluoride. They said that even drinking tea and eating potato chips provided enough fluoride! But they liked the idea of them adding fluoride as a nutritional tissue salt (CALC FLUOR).  The SABC TV crew also came to interview Sue in her Constantia kitchen where she developed the first toothpaste. The original tube with the black and white paper label is now in or museum, but it was enough to earn a listing at Pick 'n Pay! We now have 4 toothpaste variants and a mouthwash.  Proudly South African, Nature Fresh walks their talk and sells over 2 tons of Calcium complex as well as thousands of tubes of toothpaste for healthy happy teeth and bones.