PDF full size images and product information. Click on this link to paste/copy any item:
NF 045 MEGASLIM: 50 capsules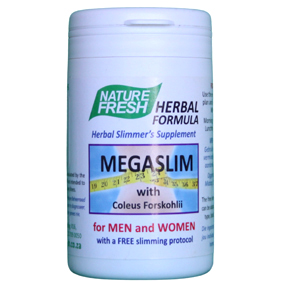 Contains: coleus forskohlii, milk thistle, cinnamon, glycine, nettle, zinc, GTF chrome, liquorice powder. MEGASLIM is a nutrient repair kit for the cause of uncontrollable weight gain, syndrome X and obesity. It is for diet-resistant individuals with hormonal imbalances, especially insulin, oestrogen and thyroid complications. To be taken in conjunction with the enclosed dietary
recommendations.
Download this free diet plan that is compatible with your blood type
Official DISCLAIMER: This unregistered medicine has not been evaluated by the SAHPRA for its efficacy, quality, safety or intended use.