The Budwig Flaxseed oil and Cottage Cheese protocol for healing and vax protection
"Various highly trained and educated individuals are dismayed and irritated by the fact that serious medical conditions can be cured by cottage cheese and flaxseed oil." Dr Johanna Budwig
How to control inflammation, cytokine storms and cancer
By Health Researcher Sue Visser
According to Dr Budwig the commercial processing of fats (hydrogenation) destroys the field of electrons that the cell membranes to function properly. A high amount of these electrons which are on the wave length of the sun's energy, are to be found, such as, in seed oils. Scientifically, these oils are even known as electron–rich essential highly unsaturated fats. But with modern food processing these vital aspects are destroyed. We have 60-75 trillion cells to charge up so that amounts to a lot of load shedding when there is a break in the fuel supply. As a result people get arthritis, Parkinson's disease, heart problems, cancer and all sorts of chronic diseases – all because they lack cellular energy. That sounds farfetched until you are dying of cancer or cardiovascular disease and make a full recovery by using the Budwig protocol.
Dr Budwig's protocol proved successful where orthodox traditional medicine had failed. Her protocol has been used for treating cancer, Arthritis, Heart Infarction, Irregular Heart Beat, Psoriasis, Eczema (other skin diseases), Immune Deficiency Syndromes (Multiple Sclerosis and other Auto Immune Diseases), Diabetes, Lungs (respiratory conditions), Stomach Ulcers, Liver, Prostate, Strokes, Brain Tumors, Arteriosclerosis and other chronic diseases. Since Dr Budwig mentioned strengthening the brain ALS "Lou Gehrig's Disease", Parkinson's disease, and Alzheimer's disease could also be treated. We used t to help a Parkinson's patient and it improved her condition and quality of life, to the point she could be weaned off her medications with the help of magnesium, vitamin D, B6 and other key supplements.
The fat free cottage cheese provides a sulphur-based protein that sets off a chemical reaction. It makes the flaxseed oil become water-soluble so it is easily absorbed into the cells.
Here is the Budwig Protocol to assist your home treatment. If you are willing to help manage the daily supplementation or find somebody to prepare the recipes I provide then we have a way forward. I have adapted the Budwig protocol so a week's supply can be made and frozen into ice cubes. Then they can be added to smoothies or defrosted and stirred into other foods.
A Covid-19 update: How does it protect the bloodstream from allergens, eg: gluten, spike proteins and MRNA we may be exposed to albeit unwittingly from even a vaccinated person?
The mixing of the oil and cottage cheese allows for the chemical reaction to take place between the sulphur protein in the cottage cheese and the oil, which makes the oily mixture water-soluble for easy absorption into your cells. linoleic acid, phosphatides and lipoproteins create opposing electrical fields around the cell nucleus and membrane of the cells to keep them alive and able to charge us full of energy. On the membrane we need this combination to enable cell membranes to form perfectly and divide without mutations to prevent cancer. A more recent advantage of having a good fatty acid profile is that you are able to surround foreign particles in the bloodstream – especially spike proteins, viruses and bacteria that do not have outer membranes.
"The spike protein may cause enormous damage to the vascular system when a person is injected with that spike protein, and when that person's immune system attacks the spike protein and neutralizes it, the damage may be halted."   (Read this article, should you still want a covid vax)
Ironically, a healthy innate immune system will protect the patient from the damage caused by the vaccine – to prevent adverse reactions such as hyper inflammation, blood clots and so on.
But what if your immune system is weakened, compromised and therefore a target for spike proteins and free-form genetic material? Then injecting spike proteins and MRNA into the bloodstream will set off a volley of inflammation, blood clots and the average person who does not have a healthy fatty acid balance will succumb to serious, if not fatal health issues. All this without even being infected with the Covid-19 virus! So too, the overactive immune system that creates antibodies against itself. Double trouble.
To be on the safe side, we need to make sure we have adequate levels of anti-inflammatory essential fatty acid and we need to lower our saturated and trans/fatty acids. This can only be done by making substantial changes to the diet and the Budwig protocol is one of the safest, cheapest and most effective ways to protect yourself.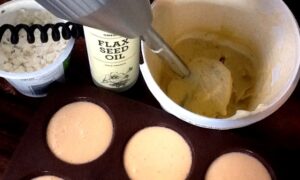 The Budwig Basic: How to make your Budwig basic mixture for yummy smoothies, dips, ice cream and other treats
It is basically a mixture of low-fat or fat free) cottage cheese and flaxseed oil you blend with a stick blender.
Yield: 4 – 5 day's supply. But there is no upper limit to the dosage – the more the better!
• 1 part flaxseed oil (say ½ cup) to 2 parts fat-free cottage cheese (say 1 cup or tub)
• 1 – 2 cups water or low-fat milk if you don't like a sticky texture
Use this as a basic for a bulk supply to freeze as ice cubes. They are so handy then, to add to meals and smoothies.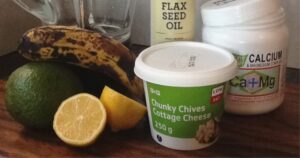 The Budwig Buzz
• Place 2 – 4 frozen cubes of the Budwig basic mixture in a blender jug or stick blender cup.
• Add 1 – 2 cups of Amasi or Kefir (fermented milk – low fat organic if possible).
• 2 teaspoons of lemon juice
• Flavour it with 2 teaspoons of sweet molasses or honey.
Add a banana or some other soft fruit like strawberries, apricots, papaya, pears, mango or avocado. The banana must be ripe – black marks on skin.
Other things you can add. You need to make sure the patient has a lot of vitamin C every day. 1 teaspoon of ascorbic acid can be added but it is sour – like lemon juice. If they are not keen to take multivitamins or supplements separately then empty out capsules or crush tablets into the smoothie. Get creative with calcium, magnesium powder, L-Lysine and co-Enzyme Q10, pantothenic acid, zinc and other minerals.
Probiotics, especially products with at least 10 – 15 strains of bacteria and high (therapeutic) doses of vitamin D will add extra bounce.
NB: Never add unpleasant tasting supplements to these blends. Also no Fish oil capsules. Don't take them with a hot beverage – they cause fishy burps.
Ice Buddies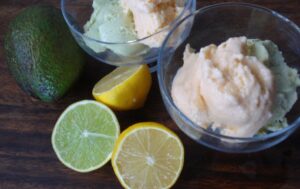 Pour smoothie mixtures into ice lolly moulds. Top up the mould with more fruit pulp for a two-tone effect.
Make a delicious soft serve ice cream. Process a few frozen basic Budwig cubes with fresh strawberries or papaya or banana. For a more solid sorbet add the frozen chunks of fruit to the Budwig ice cubes. Frozen banana and avocado make it creamier. The processed mixture can be returned to the freezer for half an hour or until it needs to be served. But whisk it up with a fork from time to time to remove any icicles.
Budwig style dips and salad dressings
Use some of your basic mixture to add to mashed avocado pear, salmon pâté or savoury ingredients of your choice. Season it to taste with herb salt, spices and pepper. Or blend up a fresh tub of cottage cheese with half a cup of flaxseed oil. Its therapeutic effect depends on giving the mixture a good workout with your blender. It may need to be thinned down so add some liquid or lemon juice. Then divide it into a few tubs for launching a delicious range of party dips and salad dressings.
Grind up fresh flax seeds / linseed to add even more health benefits. Add sunflower and pumpkin seeds if you have them. Sprinkle them on salads and snacks. A tasty sandwich or cracker mix is the basic dip, plus an equal amount of the seed mixture plus Marmite or miso paste.
Even if you are too overwhelmed to investigate the fine science – read these wonderful testimonials.
Budwig protocol and iodine cured cancer in 5 months! Report from Sue Visser April 2019
Hi, I received this letter from a gentleman, who heard me talking about cancer on the radio last year. 5 months ago he asked me for advice for his niece who had been diagnosed with Hodgkin's lymphoma. I told them about iodine and the Budwig protocol and helped them understand how and why they work. I also suggested parasite cleansing, a heavy metal detox and the exclusion of gluten and other trigger foods that cause inflammation. Some are specific to one's blood type. They persevered and I would like to share this letter with you. Regards, Sue Visser
1) The first letter:
"I just wanted to check with you if you do private consulting as well to discuss eating plans? The reason why I am asking is because with my niece's cancer panic is starting to set in (maybe rightfully so – I don't know) and with so much advice on social media about what is good to eat for cancer patients it is becoming a frenzy."
My reply:
I am only a health researcher. (Advice given is protected by disclaimers). You need to get on with the Budwig protocol, clearing out parasites, a heavy metal detox – and take Lugol's iodine. (Ask about this at your health shop, they can get it for you. 2 – 3 drops in a little milk is usually recommended)
I will attach some notes from my previous radio talk on cancer with Zulaikha. We are planning another one. From: yusuf@softlite.co.za [mailto:yusuf@softlite.co.za]
Reply Sent: 21 August 2018 14:13
Dear Sue, Thank you kindly for your swift response and for not hesitating to share your knowledge even with a
2 ) The results after 5 months:
"Good day Sue, Hope you are well.
I just wanted to share the good news with you. Last week, the doctors declared her "clear" of cancer. Praise be to God first! (Patient diagnosed with Hodgkin's Lymphoma in November 2018)
We want to THANK YOU from the bottom of our hearts for all the advice you have shared with us willingly & unselfishly. Ever since you shared the natural methods, like the Budwig protocol & Lugol's Iodine, she has religiously consumed such, amongst other changes in her diet. I guess now the next big test starts, i.e. further educating ourselves and eating the natural/proper way.
THANK YOU! THANK YOU!"
(This information was also shared with the carers of my husband's late sister who was on Parkinson's medications. She was successfully weaned off Carbilev – with the help of the Budwig protocol, the strict exclusion of wheat ad sugar plus a number of key supplements. It took less than 6 months under the supervision of a Dr of Functional Medicine.)