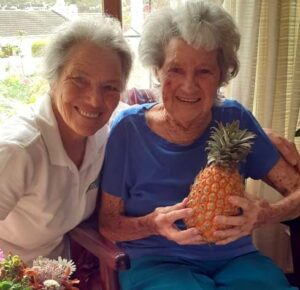 Sue Visser with her Mother, 99 and the amazing pineapple story
Pineapples have profound anti–inflammatory effects and my 99 year old Mother bears testimony to the other healing properties she has experienced – almost unwittingly, for many years. Mom usually complains about eating raw fruit or harsh salads because she says they give her "colic". She complains about gas and bloating yet she has no problem with pineapples. I keep reminding her that pineapples contain a proteolytic enzyme called bromelain that helps us to digest food, to keep the blood flowing, the parasites at bay and it helps to ease a nasty cough. She gives me that look, a smile of dismissal and her eyes glaze over. I change the subject.
As a safe and reliable solution to the Covid-19 pandemic, pineapples triumph as one of the most versatile, non-toxic and completely natural drugs we have at our disposal. Scientists now know that the spike protein – the hub of coronavirus infections and their roll out of mutations are destroyed by proteolytic enzymes. 2020 studies discovered that bromelain (present in pineapples fruit, leaves and stems) is a very effective anti-viral. It was suggested as a treatment for the covid-19 over a year ago. Yet the world is still divided over the vax versus no-vax issues, the boosting and the bullying.
Scientists are still not convinced that anything can really knock out coronaviruses, let alone double up as an anticoagulant, anti-inflammatory and mucolytic drug. Bromelain has it all. I could not wait to tell Mom more about her favourite fruit and how excited I was about this discovery. Seven months ago she fell next to her bed and broke her femur. Now back home, sufficiently mobile and once more the queen of the house, I was surprised that unlike most of the people I meet, even half her age, Mom had nothing to complain about. No aches and pains, fatigue, depression, inflammation or even nasties after her Covid-19 vaccinations? Many of the people we meet have been mowed down after their vaccines and boosters. The penny dropped. Bromelain.
Just a word of caution: pineapples thin the blood, so if you are on commercial blood thinners, going in for surgery or suffer from excessive menstrual bleeding, understand that pineapples as well as the bromelain used in capsules that is extracted from the leaves is a very effective stand-alone blood thinner – plus plus!
Search Results for "bromelain" (naturefresh.co.za)    Please share this with your Doctor!