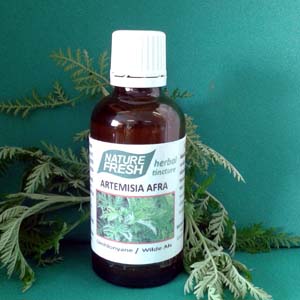 Full size images on PDF with product  info. Click on link to copy / paste any item:
NF 059 VIRO-ZAP ARTEMISIA TINCTURE
ARTEMISIA Afra tincture (40% ethanol tincture : 50% herbal extract)
5ml drops = 250mg Artemisia Annua extract. Traditionally used for treating worms, parasites (malaria) microbial infections, viruses (colds and flu including COVID-19), fever, inflammation and for immune support.
TREATMENT for INFECTIONS: Take 5 – 10 drops in water or under the tongue for rapid absorption 1 – 3 times per day between meals.
Official DISCLAIMER: This unregistered medicine has not been evaluated by the SAHPRA for its efficacy, quality, safety or intended use.