PDF full size images and product information. Click on this link to paste/copy any item:
NF049 DEO-BUSTER: 100ml jar   NEW SIZE get 20% more for FREE
A new versatile aluminum-free deodorant cream: Nature Fresh DEO-BUSTER!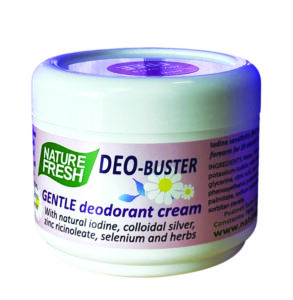 Zinc ricinoleate is a natural deodorising chemical. It is a comonent of the castor oil bean and traps ammonia, the cause of odour from bacteria. This new silky deo-buster cream also contains colloidal silver, selenium and decolourised iodine to help protect ladies from breast cancer. It is free of aluminium and is ideal for armpits, an area that is close to lymph glands and breast tissue. Iodine and selenium deficiencies affect breast diseases like cancer and fibrocystic disease. Rubbing this anti-chafing cream onto areas that are prone to chafing helps to absorb the iodine. It is free of harsh synthetic chemicals, perfumes and colouring. The formulation is slightly astringent. it allows for free perspiration (elimination of toxins) and is therefore not an antiperspirant that blocks lymph drainage. Sweat is not the problem. All you need is to control the bacteria that cause odour, rashes and microbial/fungal skin infections. The cream does not leave white marks on black clothing or yellow stains on white clothing! It also helps for fsensitive skin, shaving rashes, foot odours and in personal areas when urinary incontinence, etc can cause discomfort. Use it as often as you can and spread it around!