PDF full size images and product information. Click on this link to paste/copy any item:
NF049 DEO-BUSTER: 80ml jar
A new versatile aluminium-free deodorant cream: Nature Fresh DEO-BUSTER!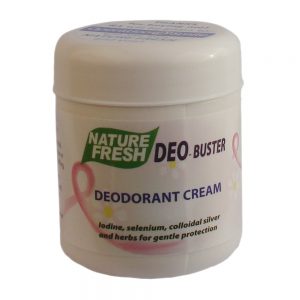 This new silky deo-buster cream contains colloidal silver, selenium and decolourised iodine to help protect ladies from breast cancer. They are combined with herbal extracts of calendula and witch hazel in a paraben-free base of vanishing cream. It is free of aluminium and is ideal for armpits, an area that is close to lymph glands and breast tissue. Iodine and selenium deficiencies affect breast diseases like cancer and fibrocystic disease. Rubbing this anti-chafing cream onto breasts helps to boost iodine reserves that are present in breast tissue. The same goes for the thyroid, making it a great throat cream as well! For tough sporty customers it is excellent for pongy pits, grotty groins (lycra cycle pants) stinky feet (gym shoes) and infected toe nails. It is free of nasty chemicals, perfumes and colouring. The formulation is slightly astringent and is not an antiperspirant. Sweat is not the problem. All you need is to control the bacteria that cause odour, rashes and microbial/fungal skin infections. The cream does not leave white marks on black clothing or yellow stains on white clothing! After using it daily for a while you need only apply it every second day as the odour busting effect increases with regular use.