Radio talk with Sue and Zulaikha Thursday 18th January 2018
Q: What do we mean by food poisoning and is it serious?
Normally our immune systems can deal with the odd infection we get from eating contaminated food. Firstly the body will try to get rid of what we ate and – out it comes. Usually we will vomit or experience cramps and diarrhoea and providing the infection has not spread too far, such food poisoning should be over after a day or two.
If the condition persists for a few days it can lead to more serious fluid loss and often people die because of dehydration, caused rather as a side effect of the infection than from the pathogen that caused the initial poisoning.
Q: What types of infections do we get from food?
We get infected from eating food that contains a toxin – a chemical or infectious agent such as bacteria, viruses or parasites. The poisoning may only be related only to the gastrointestinal tract causing vomiting or diarrhoea or it may involve other organs such as the kidneys, nerves brain, or muscles. In some cases the infection may have serious consequences, especially for people who have compromised immune systems or for pregnant women.
Viral infections: Stomach flu is a non-specific term that describes an illness that usually resolves within 24 hours and is caused commonly by the adenovirus (a cousin of the common cold virus), Norwalk virus or rotavirus. It can be spread by infected food. We call it a "bug that is going around." Rotavirus is the most common cause of severe diarrhoea among children, resulting in the death of over 500,000 children annually worldwide.
Bacterial infections do not "just go away":
Listeria, for instance is a type of bacteria that is most often associated with eating soft cheeses, raw milk, contaminated fruits, vegetables, poultry, and meats. Pregnant women (and the foetus), babies, the elderly and those with a weak immune system are more vulnerable to Listeriosis. Brucellosis (similar to tick bite fever or Lyme disease) comes from ingesting raw or unpasteurized milk and cheese, especially goat's milk products.
Symptoms include fever and chills, headache, upset stomach and vomiting. Treatment is with antibiotics. A serious, untreated infection causes meningoencephalitis and/or septicaemia in adults and newborn infants. In pregnant women, it causes fever and abortion. New born infants, pregnant women, the elderly and immunocompromised individuals are particularly susceptible to listeriosis.
Other bacterial infections include:
Staphylococcus, found in dairy products, meat, and eggs
Shigella, found in water (often swimming pools)
Salmonella, found in meat, dairy products, and eggs
Campylobacter, found in meat and poultry
E. coli, found in ground beef, sprouts and salads
Cholera spread by Vibrio cholerae is usually found in food or water contaminated by feces from a person with the infection. Drinking untreated water is the main cause.
Although infections may initially be caused by infected foods, the bacteria can be spread by personal contact and water contamination. The sea water around the False Bay coastline is often infected with E.coli.
Parasites can also cause vomiting and diarrhoea
Giardia may be found in soil, food, water, or on surfaces. If your child has Giardia, avoid swimming in pools for two weeks after the diarrhoea or loose stools have cleared. Giardia is fairly chlorine resistant and is passed in the stools of infected people for several weeks after they no longer have symptoms. Other larger parasites like worms and flukes can also cause long term gastric discomfort but not really continuous vomiting.
Amoebic dysentery (amoebiasis) is caused by a single-celled parasite called Entamoeba histolytica. It is usually caused by poor hygiene or contaminated food or water. Once inside the body, amoeba clump together to form a cyst that is protected by the stomach's digestive acid. When the cyst passes through the intestines it breaks open, the amoebae burrow into the intestinal wall and cause small ulcers or abscesses. Cysts are expelled by the body via faeces but remain alive and can inect others.
Q: How do we diagnose and treat these infections?
Acute episodes of vomiting and diarrhoea are usually due to "something you ate" and are resolved within a day or two. It is important to remain well hydrated and take electrolytes. Potassium is important and cream of tartar can be added to a glass of water containing salt and a teaspoon of honey or sugar. Sachets of electrolyte powder are very good to keep handy for this reason. Active charcoal capsules or tablets help to detoxify the digestive system.
If a fever is present plus nausea, dizziness or muscle weakness one needs to investigate further. A loss of appetite is normal and mashed banana, black tea and dry crackers are traditionally given exclusively. Usually a doctor will advise the patient to take antibiotics if bacteria are suspected. Symptoms, blood tests and stool cultures help to confirm the diagnosis and determine the appropriate treatment. If antibiotics are given, it is advisable to take probiotics afterwards to replenish the gut with beneficial bacteria. Otherwise the diarrhoea may persist.
Q: Are there alternative ways we can diagnose and treat these infections?
Yes, definitely and that is why the work of Hulda Regher Clark is so valuable. All of these life forms have a frequency. Even viruses can be detected by using a synchrometer that can measure them. Each one has a frequency and when this signal is intensified and relayed back to the patient, it kills the offending pathogen. Today we have sophisticated machines called the SCIO or the more recent plasma-based devices to both identify and treat infections. The Rife resonator and the zapper can also destroy infections caused by viruses, bacteria, parasites, mould and fungus.
Q: Is it true that we can get free treatment from Youtube?
Yes! There are many different types of healing frequencies that are given out for free. You run the movie and can hear different sounds. For instance, here is one that clears you of parasites? If this really works, it would be worth telling more people about it. I have not yet used them, but my cat is going to have the worm treatment! He refuses to take the pills and hates my Parasite Remedy! As a kitten we treated him for HIV virus using the Rife mat, so maybe he is just skinny.
Q: What about home-based or herbal remedies that can treat parasites?
We are familiar with Artemisia (wormwood) and oregano oil for instance, that can kill bacteria and parasites – but not all of them. Olive leaf tablets and tinctures are effective against many viruses because antibiotics do not kill worms and viruses. Tincture remedies can be used in combination: olive leaf, ivy, cloves and Artemisia with a few drops of iodine. Capsules are handy for travel and for preventative treatment.
Bee propolis is also a strong anti-bacterial as well as anti-parasite remedy. Diatomaceous earth and zeolite are available from health shops and can be taken to discourage worms. It is good to mix it with the good you give to cats and dogs as they can also spread these infections.
You can read my full article on parasites and pathogens by following this link. It was first published many years ago to accompany an earlier radio talk in the year 2000.
https://www.medicinenet.com/food_poisoning/article.htm Food poisoning and bacterial infections like listeriosis.
https://medlineplus.gov/listeriainfections.htm
http://www.aboutkidshealth.ca/En/HealthAZ/ConditionsandDiseases/DigestiveSystemDisorders/Pages/Intestinal-Parasites.aspx
Nature Fresh Parasite Remedy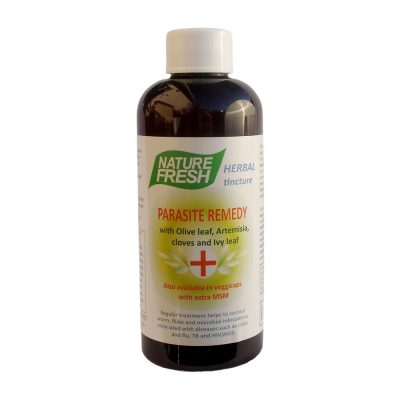 Nature Fresh Olive Leaf tablets