PDF with full size images and product information. Follow this link to paste/copy any item:
Nature Fresh Olive leaf tablets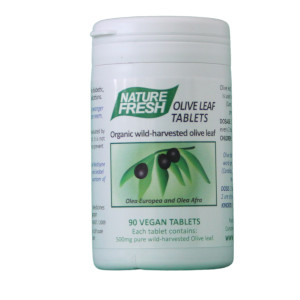 100% Olive leaf antimicrobial: Each tablet contains the powder of 7 dried olive leaves. It is best to chew them as they are also very good for oral hygiene. Many scientific studies have been performed throughout Europe and the USA to show that olive leaf has strong antiviral, antifungal, antibacterial, and anti-parasitic activity, including malaria. Olive leaf can successfully treat bacterial, protozoan, and fungal Infections as well as viruses that include colds and flu plus HIV/AIDS* Valuable phytochemicals present in whole olive leaf products work in synergy. They contain anti-malarial agents, including cinchonine – to help ward off drug resistant malaria.
Biofilms and Candida: Olive leaf does not harm beneficial bacteria as is the case with regular antibiotics and they also help to eliminate biofilms that shield off colonies of bacteria, causing drug resistance. As a treatment for yeast infections such as candidiasis they help to cure long-term patients who have given up on diets and anti-fungal medications.
As a cardiovascular medicine: they reduce blood pressure, thin the blood, clear out microbes and parasites and reduce inflammation. Olive leaves have powerful anti-oxidant activity and reduce blood sugar as well as "bad" cholesterol. According to the monographs there are no serious side effects. Using them with the full dose of blood-pressure lowering medications and blood thinners may exaggerate the effect; so caution is advised. Refer to the monographs for more details.
Pregnancy, breastfeeding: Olive leaf has not been officially tested for pregnancy but for over 20 years, pregnant women have taken them to good effect, after the third trimester. It is best to ask a doctor. Olive leaf seems to zap all strains of "latest" colds and flu bugs as a beneficial side effect!
* Olive leaf Monograph http://www.altmedrev.com/archive/publications/14/1/62.pdf
Nature fresh Olive leaf tablets

https://naturefresh.co.za/olive-leaf-tablets/
https://naturefresh.co.za/the-olive-leaf-story/
https://naturefresh.co.za/olive-leaf-updates-2016/  Q & A
https://naturefresh.co.za/olive-leaf-trying-conceive-pregnant-breastfeeding/
https://naturefresh.co.za/products/nf-038-olive-leaf-tincture-50ml-tincture-high-potency-40/
Official DISCLAIMER: This unregistered medicine has not been evaluated by the SAHPRA for its efficacy, quality, safety or intended use.