PDF with full size image and product info: Click on link below to paste/copy any item
NF 005 ALOE SKIN THERAPY GEL: 75 ml tube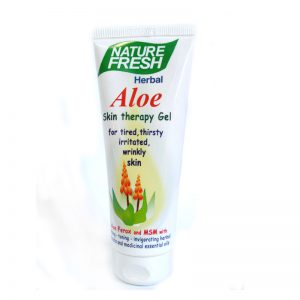 A soothing and toning gel for very sensitive problem skins. Can be used as is for shaving; especially ingrown hairs and skin rashes (men and women) Handy for travel or beach: sunburn, itches and rashes and to protect skin before swimming. Good for nappy rash. Active ingredients include rooibos tea, aloe ferox gel and leaf extract, MSM (methylsulphonylmethane), bucchu, wild sage and pure camphor.
Free from harmful chemicals. pH balanced for sensitive skin and intimate use.
For cleansing and bathing products: only natural herbal tinctures and pure essential oils are used with: vegetable-based glycerine and a gentle coconut derived soap base (sodium laurel ethyl sulphate) that is pH balanced to pH3.5. This makes it non-caustic and suitable for intimate use, baby care and to control candida and odour forming bacteria. All liquid washes and vaginal cleansers have: NO PERFUME, NO COLOURANTS, NO TOXIC: PRESERVATIVES OR CHEMICALS.