PDF with full size images and product information. Follow this link to paste/copy any item:
NF 027 SENSITIVE BODY WASH: 250ml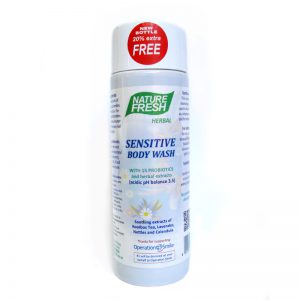 Gentle cleansing of sensitive, inflamed, broken skin. Ideal for babies or for post-op. care. Super mild and pH compatible with intimate areas to prevent odour and inflammation. Contains anti-inflammatory, soothing and healing herbs: lavender, calendula, urtica and rooibos. Use for bath, douche, shower or shampoo. It makes a luxurious bubble bath and will not harm or burn young children.
Free from harmful chemicals. pH balanced for sensitive skin and intimate use.
For cleansing and bathing products: only natural herbal tinctures and pure essential oils are used with: vegetable-based glycerine and a gentle coconut derived soap base (sodium laurel ethyl sulphate) that is pH balanced to pH3.5. This makes it non-caustic and suitable for intimate use, baby care and to control candida and odour forming bacteria. All liquid washes and vaginal cleansers have: NO PERFUME, NO COLOURANTS, NO TOXIC PRESERVATIVES OR CHEMICALS.