Q.) Hi. Please can you tell me about giving your parasite remedy to my 18mo old? I'm not certain he has worms, I've not seen anything despite searching his stools & bum. But he puts his hand in his bum whenever his nappy is off! I don't know what's going on so thought I'd just rule this out.
He's also a terribly restless sleeper. Tossing & turning almost continuously & unable to fall asleep (the whole night)
He also rubs his eyes & nose vigorously while he can't sleep. They seem itchy.
I'm hopikg it's all related & I can help him (and myself! I'm exhausted!!)
It's says it doesn't damage gut flora? So no probiotic needed at the same time?
Thanks
A.) Combantrin does not disturb gut flora, they are talking about antibiotics. You need to kill worms and creepy crawlies, not bacteria! Poor child, you can give 1/2 doses of the Parasite Remedy but it may need a few doses over about a week. The stuff tastes yucky! Long term supplements of our Olive Leaf and Calmag Combo tablets are good but need to be taken every day for at least 6 weeks.
We have never had gut issues in our family, over the generations and are strict about worms. It works within a day and the ordeal is over. They breed in 3 weekly cycles so you need to persist once a month, as I mentioned in the notes. Especially when kids are together and there are pets around. I know of adults with pin worms and have been told that the parasite remedy did not always work, so it is up to you.
Here are some alternatives. QX or Rife treatment, but the gut contents don't get dewormed. A healthy and very effective daily supplement is diatomaceous earth or zeolite. But it tastes yucky! I mix it into cat pellets that I moisten with warm water. When dry, I blend with the cat food to keep my 3 kitties (and us as a result) worm free. Fleas are carriers of tapeworm eggs. We don't have the itchy symptoms or any nasties by the way.
I hope this helps. I too am wary of antibiotics and have an alternative protocol. But natural substances can also wipe out gut bacteria. Replace them by adding our Probiotic 15 to juice, yoghurt and so on.
Regards, Sue
Q.) Thanks Sue
I belong to an organic living whatsapp group and also to the natural immunity facebook group. Do you know it? They all seem quite anti the allopathic deworming stuff – say it damages good gut flora. I really don't want that! Do you not think it does? I've gone to great lengths to ensure this child has zero chemicals in his system. Ive struggled with bad gut flora my whole adult life. I don't want that for him and don't want to do anything that may jeopardise his. Esp since he will have inherited mine from the birth. xxx
A.) https://www.babycenter.in/a1050897/how-to-know-if-your-baby-or-toddler-has-worms Look at this website. Better to give Combantrin dewormer, from a chemist It is available in a liquid form and tastes quite nice. We always used it (way back a few decades ago!) Especially if you have pets and a garden. ALL children get them, so treat it as a routine job, every 2 months. Read my notes if you need more help.
I hope this gives you a happy solution – you are not alone! Love, Sue Visser xxx
Any input welcome.
Nature Fresh Parasite Remedy: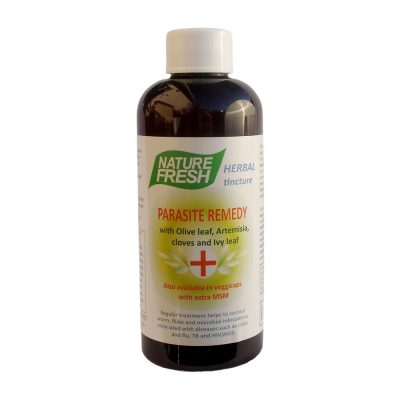 Click image for product page