You asked if our products are biodegradable?
A ) We make consumable products, so one would assume them to be biodegradable as far as grey water and the environment are concerned. Formulations are fluoride free, SLES free and do not have nasty chemicals that harm people, plants or animals. We recycle grey water for our garden, if that is what you mean?
Our plastic containers are made of thermoplastics and are 100% recyclable, so next you sit on a park bench, you can appreciate what it is made of!
Response: ) Perfect, yes, thanks very much. Now I just need to find time to sit on the park bench. 😉
The parasite remedy label change
Q ) I had a few comments from clients/patients about a slight change in the taste of Parasite Herbal remedy with the new label versus the old Parasite Herbal Remedy. Can you please inform us all if there has been an alteration in the formula?
A ) We changed the label, not the remedy. As you know, we are not allowed to make "claims" including what the product does and how it should really be used. The taste may vary from batch to batch because we use plant based material and seasons, crops and odd things may cause a taste change. Rather like wine and how they go on about the flavour nuances caused by soil, acidity and so on.
Intimate personal lubricant – for conception?
Q ) I was told to contact you regarding one of the Nature Fresh lubricants. Please could you confirm if the odourless version is sperm friendly as my husband and I are trying to conceive and this is the only lubricant I can use and like on the market?
A ) Our lubricant is not a spermicidal gel but we have no guarantee that it does not trap a few little sperm cells. I should imagine there are plenty of them, so relax and enjoy. I worked for Dr Zeelenberg, a Gynaecologist who helped me formulate these products and he never mentioned it as being a problem. Obviously, use as little as possible. The contraceptive type has a large mass and has to trap all the sperm. If anything, it would be harder to guarantee is as a contraceptive! He used to tell ladies that for girls, his recipe was an acidic vagina. (Our product is acidic.) So, for boys, the chances are increased by more alkalinity. He used to advise a good rinse out with a solution of bicarbonate of soda, prior to intercourse. For girls he recommended adding a little apple cider vinegar to the douche. https://naturefresh.co.za/product-categories/intimate-hygiene/
God bless, looking forward to the new family! Love Sue
A ) Thank you so much for the feedback and insight – definitely my favourite product on the market for lubricant and the rooibos intimate wash. So good to see quality products like this out there.
Toothpaste for teething
Q ) Thank you again for excellent products. I was wondering – could I use the sensitive toothpaste as a teething gel for my little one? I assume I needn't be concerned about it containing bee products seeing as it is purified (I am steering clear of honey until my baby is 1 year old)? I would appreciate your insights.
A ) We make Junior toothpaste – especially to double up for teething. The aniseed oil helps to soothe the gums. It can be accidentally swallowed. (My Grandchildren eat it with a teaspoon!)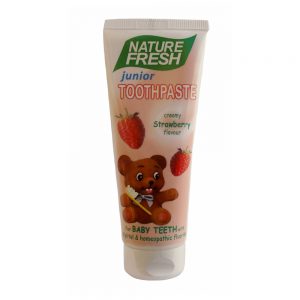 Nature Fresh Junior Toothpaste – click picture for more info
Babies love it on their dummies and it is free of mint and thus suitable to use with Homeopathic remedies. Especially the ones for teething,
Rescue remedy and teething powders are very helpful. Love, Sue
Response: Thank you Sue. I was able to get away with using only chamomilla teething powder and tissue salts with my daughter, but my son seems to be a bit of a troublesome teether. Thanks, I will def try the toothpaste! Blessings
Q ) Me again, sorry. I am familiar with your kiddies toothpaste as I use it for my daughter. My son has very sensitive tummy….he reacts to many things in my diet with the breastfeeding. I was therefore just worried that the xylitol might upset my son's tummy if I use the toothpaste as teething gel, hence my thinking of using the sensitive toothpaste instead?
A ) Try it – they are not ingesting very much xylitol? The aloe one is minty, so not recommended for Homeopathy.
pH balanced products for sensitive skin
Q ) We travel in Africa extensively and I use your hygiene wash as a body wash. This sometimes is impractical. Do you have any other ph balanced products in a bar of soap or wet wipe. I have a very sensitive skin and find your product absolutely fantastic.
A ) xxxxx
Nature Fresh and probiotics for VEGANS?
Q ) I wanted to follow up on whether your products are still vegan friendly or not. The reason I ask is I noticed your intimate wash now contains probiotics. Some of the probiotics listed such as lactic acid sounds like it could be derived from animals so I just want to know if any of those ingredients are derived from animals?
A ) We do not derive any probiotics from animals, as far as I know. Lactobacillus is alternatively fermented from things like cabbage (sauerkraut).
But if in doubt, don't if you have a conscience problem with the possibility of using something that may have come from a microbe. It is a big problem for strict vegans because even the air is full of biological matter, including dust mites that we inhale unwittingly. Our Nature Fresh Bee balm is obviously not vegan, neither is the Aloe toothpaste with propolis. For the rest, we try our best.
Response: Thank you for getting back to me. It was actually the lactic acid I was wondering about? Or is that the same thing? If you say the probiotics are not derived from animals then I am happy to continue using the product as there really is no other product like it.
I understand not everything can be 100 percent vegan because of cross contamination in labs or factories etc but as long as none of the ingredients used in the intimate wash are derived from animals then I am happy.
Thanks for your response: I remembered a story told to us about Indian vegans who had adequate B12 levels. They ate chapattis made from wheat that was accidentally harvested and processed with locusts. EEK! Evidently we need good gut probiotics to help improve B12, so obviously we can make and absorb more vitamins and nutrients that way. I am not strictly vegan but am very careful about not hurting "anybody" either.
I noticed your other request about animal anti-cruelty. We are not going to apply for (or buy) any endorsements as our word is good enough. Instead we devote all our promotional money to Operation Smile and display their logo instead. Next year we will include St Luke's hospice.
Thanks Sue!
Regarding the cruelty free endorsement I am happy to take your word for it as I know you are an ethical company.
Love the toothpaste, also for pets. How much mouthwash?
Q ) I purchased the nature fresh toothpaste at Dischem – absolutely a must have in any home – I also use it daily for my furry baby as he is Having gum problems – it really works  Yesterday I got the breath buster antimicrobial mouth wash . How much should I use at a time – would one cap full be sufficient for daily use. Thanking you kindly
A ) Hi, glad you and your best friend like our toothpaste. Aloe, the one without xylitol is made especially for animals. The mouthwash is used anytime as a quick rinse or to freshen up, so a tiny sip does the job as a rinse. Follow with a rinse of water for 100% removal of food particles.
We also keep some in a small spray bottle to use when out and about. It has been used to cure acne, believe it or not! Yesterday I had a spider bite that began to swell up and get angry. I sprayed it with the mouthwash, as it was all I had in the car. It worked!
Sulphur allergy – Parasite Remedy and Probiotics? Self-test with Kinesiology
Q ) My husband is violently allergic to sulphur. He almost died from A Vogel's echinea force. It is very important that I confirm that the Probiotic 15 and the parasite remedy does not have sulphur.
A ) Your letter was referred to me this morning. We cannot guarantee that any of our products are free of sulphur as it is a natural and very abundant element. It depends on the amount of sulphur present. Even lighting a match will release some sulphur into the air!
At best, one could test your husband with the substance in question on equipment that measures the patient's tolerance to a substance.
Here is a link to find out more: http://www.positivehealth.com/article/allergy-testing-1/applied-kinesiology-muscle-testing-for-allergies-and-food-sensitivities
Here is some advice from a blog:
http://www.healthboards.com/boards/allergies/754388-foods-avoid-when-allergic-sulfur.html
Re: foods to avoid when allergic to sulfur
I think you need to get a better understanding of what you're allergic to because it's fairly unlikely that an actual Sulfur allergy would ever create a problem with what you eat. Sulfur by itself is a crystalline chemical element that is not found in food.
Sulfa is a class of medications, based on Sulfoanamide that do not contain Sulfur but that commonly cause allergic reactions. If you are allergic to Sulfa medications you should avoid any sulfa-based medication but sulfa is not found in food.
Sulfites are a chemical compound naturally found in food, and added to food as a food preservative. Sulfites are most commonly found in wine (where they occur naturally but are also added as part of the fermentation process), dried fruit, dried potato products. If you are allergic to sulfites you should look for the words sulfite, bisulfite, metabisulfite on food labels and should probably avoid foods that contain them. I hope that helps. Regards, Sue Visser
Response: ) Thanks Sue I think his bracelet says sulfa and sulfanomindes or something like that. He reacted to bactrin medication and to echienaforce. Even one glass of wine is out of limits. Thanks. I will do further research. I took parasite remedy and I got sick. Almost didn't make it to work today. I decided to take a break from it and I will resume on the weekend to get the healing crisis over and done with. Thanks for the info and keeping people educated and loving good health.
A ) Parasites don't like to be expelled, but you should be feeling better by now? Drink a lot of water with lemon juice, it helps. I use a personal self –test I can share with you. If I don't know if something is going to react (I am gluten intolerant) then I hold the substance against my chest with one hand and stretch out the other arm. Somebody presses it down and I try to keep it up. If the arm immediately sinks down, the substance I am holding is not suitable. This movie shows how to do this muscle test (kinesiology). Anybody can do it, but you need to practice a lot. https://www.youtube.com/watch?v=cGwYMZvJTmU Sue's demonstration of Kinesiology
Then next time you are in doubt, hold the parasite remedy, or the Echinacea, etc against your husband's chest and push down his arm, asking him to resist as hard as he can. The arm will always weaken if you hold a live cell phone against the chest, so this is how I show people the reaction. Then I ask them to say their name, without holding anything and the arm is strong again!
Chasteberry/Agnus Castus for PCOS – even when you fall pregnant?
Q ) Agnus Castus drops. My daughter  has got Polycystic Ovaries. I need to know if she can still use
It if she falls pregnant?
A ) Yes, keep up the treatment providing the hormone profile – especially the critical amount of progesterone she needs is well monitored. We have had the problem with people immediately stopping the Agnus Castus and as a result, the pregnancy terminates, due to the sudden drop in progesterone. I have attached two articles about how to deal with PCOS plus a link to our website for more information.
So all should be well and with God's blessing a grandchild should soon be on the way! Lots of love, Sue
Read more:
http://www.healthboards.com/boards/allergies/754388-foods-avoid-when-allergic-sulfur.html#ixzz4PJoF6CKp
https://naturefresh.co.za/products/nf-031-hormone-balancing-supplements-agnus-castus-50ml-tinc/